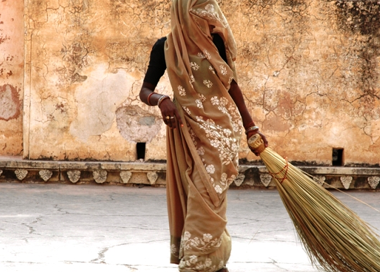 Vaali Bai : Ambassador of cleanliness
Vaali Bai wife of Roopji is an illiterate woman but very good orator. She worked in the FFHD project as health worker and performed duties in maintaining cleanliness. She was given training on health, nutrition, immunisation and hygiene. This capacity building effort made a great change in her level of understanding about health issues. She started working in the village with new enthusiasm. She motivated village women to solve their problems in collective manner. All the village women not only appreciate her but also follow her guidance. She cleans village school herself, as the school was not properly cleaned in earlier days. School teacher Mr. Kedar Lal, clearly accepts that after cleanliness in the school, the attendance of students is increased.
This is due to the efforts of Vaali Bai, who organised a meeting of village women and convinced them that our children are in the school and it is our responsibility to maintain its standard of attendance, cleanliness etc. The teacher provided list of absentee students for motivation to attend the school. Vaali Bai not only motivated women but herself visited door to door daily for bringing students to school. She also made efforts for cleaning the surroundings of the school which was full of ditches and bushes.