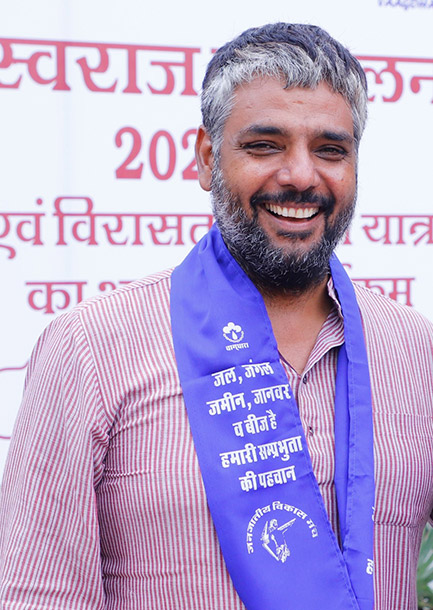 Over these strategic years, Vaagdhara directly impacted the lives of more than hundred thousand tribal communities' people in three states covering districts, blocks and villages through different programmes.
With over two decades of perseverance and efforts in improving the lives of tribal communities, Vaagdhara has nurtured smiles on the faces of thousands of farmers, women and children through its unique approach of holistic development of tribal families- protecting their livelihoods using a sustainable approach, safeguarding them from volatility and vulnerability in the environment, helping them preserve their traditional knowledge and culture while staying at par with modern knowledge, promoting youth and women leadership and empowering children to exercise their rights.
We have successfully achieved new milestones in empowering tribal communities to realize and exercise their rights and develop their own innovative solutions through community leadership and people's organizations.
Additionally, this year has been special to us as we marked the culmination of our current strategic plan, one of the greatest joys in seeing Vaagdhara's third strategic plan come to realization, and strong alignment of our ideologies resulted into a shared sense of accomplishment and satisfaction. The insights gained from our achievements, challenges, and lessons learnt have guided us in formulating a robust and forward-thinking strategic plan which aligns with the evolving needs of the communities we serve.
New achievements foster new aspirations and goals. Vaagdhara's Swaraj Framework (Theory of Change) aims to transform the lives of tribal communities by building stronger & synergized People's Organizations; promoting leadership, knowledge, culture and gender equitable processes and improved governance and external positioning. These strategies supplemented by the key thematic areas of True Farming (Sacchi Kheti), True Childhood (Saccha Bachpan) and True Governance (Saccha Swaraj) will address the challenges faced by tribal communities in a broader light and will help the impact level reach new heights by 2028.
Keeping this strategic approach in mind, we aim to make a real difference in the areas of food and nutrition security, sustainable livelihood, assured child rights, ensured living income, strengthened traditional culture, strong People's Organizations with women in leadership positions, increased gender based public investment and climate change mitigation and adaptation. The ultimate result of these initiatives will create a new sovereign identity of the tribal and farming communities by reducing their dependency on the external environment.
We, at Vaagdhara, emerge stronger and resilient, committed to building robust systems that can create lasting change in the lives of communities we serve. We are excited to turn our dream of sovereign tribal communities into reality and are ready to face all challenges steadfast. Confronting all peaks and valleys, Vaagdhara has always stood with and for the tribal communities and ensured that their troubles do not go unnoticed. The ideals of Swaraj encouraged by Vaagdhara have truly been the guiding light for self-governance and sustainability and has given tribal communities the power to chart their own future trajectory marked by progress and aspirations.