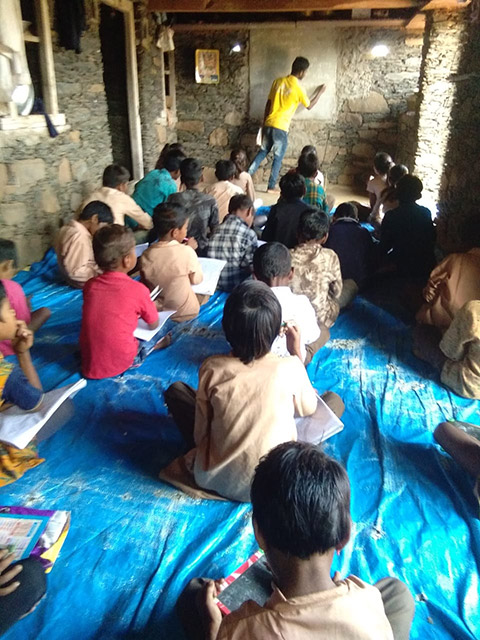 During the pandemic imposed lockdown and subsequent school closures, a concern emerged with regards to children's education in the tribal area of Banswara. While digital learning was the only solution to connect to formal education system, the worst affected among the students were children from rural areas as they totally got cut off due to poor access to devices and connectivity. Till today, they remain left out from the formal education system.
More than this concern of all of us at VAAGDHARA, the field team also shared that most of the children are in distress as they are confined to their households due to lockdown and are unable to interact with their peer group. They are unable to enjoy and learn.
We at VAAGDHARA always believe that decisions and actions for any issue that affect the lives of the tribal community must emerge from the community itself. With this ideology, in June 2020, we initiated conversations with the community members to find solutions so that learning process of children is not impacted and they are stress free and thrive to their fullest. In one of the Panchayat Level Child Protection Committee (PLCPC) meeting held on June 5, 2020 at Patiya Galiya Panchayat of Anandpuri block in Banswara, this issue was discussed formally and the members of PLCPC acknowledged the gravity of the issue. PLCPC is a panchayat level committee which works for the rights of the children and support vulnerable groups of children by facilitating the reach of benefits to them. The members of the committee include ward members, sarpanch, secretary, two child representatives, two community representatives, one Anganwadi worker, one ANM, School Management Committee President, Principal of a Secondary School, a representative from police and a social security officer.
During the meeting, one of the solution suggested was that someone from the community itself can teach the children of his/ her village. He can be the ward member himself or any other person selected by ward members who holds B.Ed. degree and can interact with children till the schools re-open. The interaction can be held for an hour per day. It was also discussed that all social distancing and other norms shall be followed while holding these sessions with children. It was decided that the sessions will be held in small groups to ensure social distancing.
All the ward members and the Sarpanch committed their efforts for this initiative in their respective villages and gram panchayats. In the consecutive months, after PLCPC meeting was held and training was conducted, the initiative started making enroots in the community.
In September 2020, the team observed that one of the ward members had put in all his efforts to make sure that children are engaged meaningfully. In the Padoli Village, on request of ward member cum PLCPC member, Mr. Tersingh Damor, a community member Mr. Alpesh Kumar agreed to teach the children for two hours a day. Alpesh Kumar is from Padoli Village itself and holds a B. Ed degree. He is currently teaching students of grade 1-8 and all the children are welcomed for these classes. Along with Mr. Alpesh Kumar, the ward member, Mr. Damor, is taking continuous efforts to ensure that parents send their children to these sessions.
VAAGDHARA always believed that solution which emerge from the communities and are owned by them shall be sustainable and have lasting impact. In the present story, with facilitation support by VAAGDHARA, the children in the tribal community are not only learning academics but are also engaged in a fruitful way.
After the PLCPC monthly meeting held in June 2020, the members of VAAGDHARA also amplified this dialogue in other gram panchayats and motivated PRI and community members to start informal sessions with children. Towards the end of September 2020, the community members and PRI representatives collectively started this initiative in their respective areas. Till today, field team of VAAGDHARA continues to motivate the Village Development and Child Rights Committee (VDCRC), Panchayat level Child Protection Committee (PLCPC) and Janjatiya Swaraj Sangthan (JSS) for taking this initiative to scale-up so that more and more children are benefitted and they continue to learn. JSSs have been formed under the guidance of VAAGDHARA and been effective in building communication between community and officials.
For a change to be visible, it takes time and efforts. The efforts started in June 2020 are have now in full flow and are being scaled-up by in other areas. In some places, even VAAGDHARA team members are stepping-up and taking out time to teach the children.
In Padoli village, Alpesh Kumar is now also planning to take classes of senior and senior secondary children, if need emerges. Our team is also in the process to make this initiative interesting. We always believed that complete dependency on outer world have a negative impact on an individual's growth. Thus initiatives shall be community based and community is taking interest to solve the problem will be fruitful for many. Also, this in many ways is a good sign about VDCRC & PLCPC becoming functional and taking charge of issues which affect the lives of community in their jurisdiction.