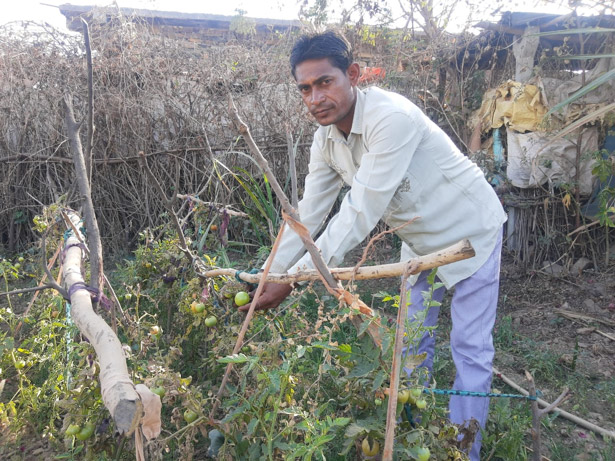 Name: Mithalal Lalji Grasia
Village: Hadmat
Taluka/district: Gangadtalai, Banswara
Every year during summer, Mithalal used to migrate to Surat for 4-5 months to work as construction labour. When Vaagdhara started work in Hadmat village in 2018, Mithalal's wife, Geeta Devi decided to join the village's Saksham Samuh as a member. As luck would have it, soon, Mithalal was selected as a Swaraj Mitra to provide training to the Saksham Samuh members on SIFS practices. The couple was not aware at the time of how transformational these events will be for their lives.
Before long, they had converted 2 bighas of their 5-bigha land into organic, replacing costly agrochemicals with bio-inputs which they prepared at home. By their own estimate, they were able to save Rs. 4,800/- in one year by switching to bio-inputs. A greater understanding of sustainable agriculture practices provided other benefits as well – Mithalal and Geeta Devi took to inter-cropping of pigeon pea with maize, their traditional food crop. They even set up a small nutrition garden, taking vegetables such as brinjal, ladyfinger, cauliflower, onion, spinach, fenugreek, tomato and cluster beans.
This not only helped them save upto Rs. 200/- per week that they were spending on buying vegetables from the market, but also provided a surplus which they could sell in the weekly haat bazaar and earn additional income. But what was perhaps most significant was how the nutrition garden helped improve the family's diet diversity and ensured a supply of vegetables grown without any chemicals, thereby contributing to their health and well-being.
Facilitating Gram Chaupal meetings also helped Mithalal influence the village panchayat to get a bund constructed on his farmland, as a result of which he is now able to cultivate all of his 5 bighas of land. He has not migrated since 2018 - he does not need to, busy as he is with his job and motivating other youth of the village to stay back and give agriculture, another chance. His next task now is to convert his remaining 3 bighas of land into organic.