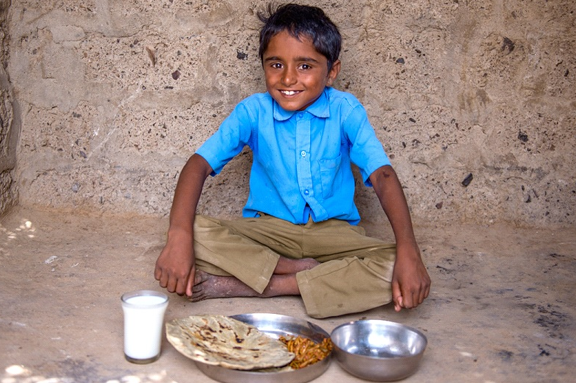 Kids Suffer Discrimination from Anagwadi Staffs on there Right to Nutrient India Mix
Today when Government and many development agencies are trying their level best to ensure that no person of the country should go to bed with empty stomach, but still it seems to be very tough to be achieved due to irresponsible behavior of staffs. There are many people who are supposed to be an efficient instrument to implement this goal through their duties are very much far away from doing it. When the number of deaths due to malnourishment was increasing, GOI started the India Mix nutrient supply, which is highly nutritious.
In an Anganwadi of Roojiya village, Rajasthan some of the kids had to bear the discrimination by the Anganwadi staff. Normally as per government rule all the kids should be provided with India mix nutrient once a week. So normally what happens is that either the Anganwadi cook prepares some dish made of this India Mix or they just provide the Nutrient to kids in their utensil. But here the innocent kids had to suffer the discrimination by the staff. The staff used to provide sufficient or sometimes more than the required to the kids of the families with whom the staff is in good terms and less in quantity to the kids with whose parents the staff were not in good terms.
But when the CAG members came to know about this they didn't believed, but when they saw this discrimination by themselves they were shocked and were completely unable to digest this step motherly attitude towards these innocent kids. Hence on 2nd June 2010 the entire CAG members warned the Anganwadi staff regarding this and instructed them to change their attitude towards the kids. Moreover they decided to complain this matter to the Bal Vikas Kendra. But before doing this the staff themselves apologized to them and promised them that this will not be repeated and they said "from now onwards these kids are my kids so I will surely take care of them as a mother".
The CAG members feel themselves proud for this achievement, and they want other CAG members to observe whether this type of behavior is prevailing in other Anganwadi or not. Since here the beneficiaries are the kids, so the CAG members are taking this matter seriously and they are trying their level best to ensure adequate and timely supply of India Mix to the kids as per Government Rule.
This incident is a matter of proud for the people of Roojiya Village, CAG members and also for Vaagdhara. This activity was done without the knowledge of Vaagdhara staff. This particular CAG is very active and they say we want our kids to see bright future and to be away from the darkness of poverty.