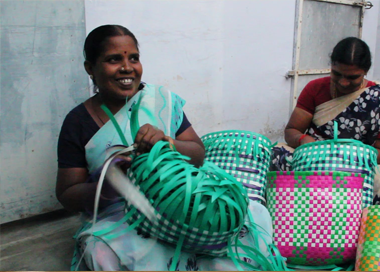 Kameela : The proud of WSHG
Kameela, Daughter of Mr. Dharji, lives in village Wadi. She was 10th standard pass at the time of onset of FFHD project. There are 6 family members in her family. She is a member of Self Help Group of the village. When FFHD project was initiated in the village, considering her qualifications, her SHG members selected her as Village Animator.
She started working with enthusiasm. She learned on various important issues related to health, education and sanitation during her capacity building training. She decided to spread awareness on these learning with her SHG members and to all the village women. She was not only devoted to her duties as Animator but paid personal interest to motivate other women also. She is sweet natured having quality of mixing with others. Within small time, because of her nature and commitment for the duties, she established very good relations within group and in the community. She was very cautious about her responsibilities related to AWC and school. Whenever she found something not up to the mark, she convinced responsible women about the importance of the issue and made required modifications. Now, all the group members admire and follow her.
Every time when issue of education was discussed among the group and outside, she seriously thought about her own educational advancement. She decided to move forward and again started further studies along with her duties as Village Animator. Finally, she successfully completed her 12th standard before the FFHD project completion. Thus, she not only become well qualified but also set an example before all the community; by her commitment and interest about women awareness and education.
Now, all the group members and community feel proud on her success with increased confidence.