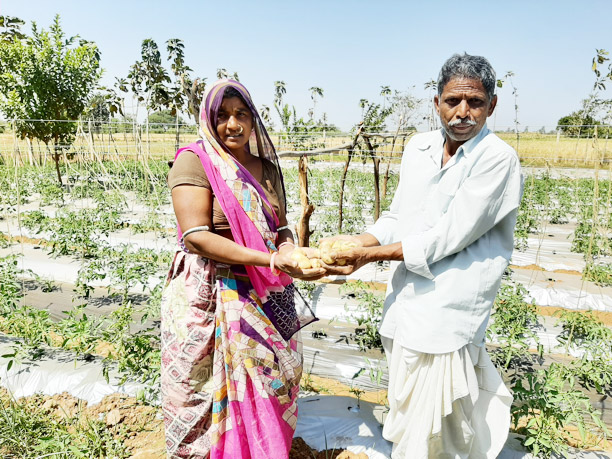 Name: Kanubhai Rawat
Village: Aamplipara
Taluka/district: Kushalgarh, Banswara
Kanubhai's life turned a leaf when he went to Jaipur for a horticulture training organised by Vaagdhara in 2018. Here, he learned about scientific agriculture practices including techniques for growing creeper vegetables and cash crops such as ginger and onion. On his return, Kanubhai wasted no time in putting his new learning to practice.
Utilising available government subsidies for drip irrigation, Kanubhai installed drip on 2 bighas of his 5-bigha land and started cultivating creeper vegetables such as tomatoes, Galka (sponge gourd), karela (bitter gourd) and Lauki (bottle gourd) and took ginger for the first time. He also decided to undertake mulching on his farm, spending Rs. 4000/- of his own money, which eliminated the need for weeding.
On Vaagdhara's advice, he switched completely to bio-inputs which his wife, Savita Devi easily prepared at home. This has helped him save upto Rs. 10,000/- annually on expenses for DAP, urea, pesticides and weedicides. He shares with pride that the potatoes that he grows along with maize and wheat on his remaining 3-bigha land do not get spoilt now as they are grown organically.
Keen to inspire others, Kanubhai regularly attends the Gram Choupal meetings and goes to KVK Banswara to share his experiences with other farmers and encourage them to adopt bio-inputs, creeper vegetables and cash crops. Three years ago, his was just an ordinary story of a farmer who migrated to Gujarat for 3-4 months every year with his family looking for work. Not only has Kanubhai stopped migrating now, but the income from his small farm has also been able to support B.Ed education for two of his daughters.