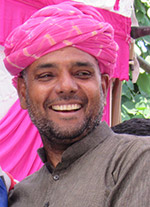 Mr. Jayesh Joshi
CEO
---
A Development Analyst, Practitioner and social worker of "Vaagar" region of Rajasthan. He has been associated with VAAGDHARA from the last 18 Years as Secretary (CEO). He is a very keen follower of Sociopolitical development in the region and strongly believes in civil society- State private partnership of sustainable.
Mrs. Surbhi Saraswat
Head of Program
---
Analysis of the implementation of the programme commitments. She creates the Monitoring Input system and provides training to field workers (JSSSI) about it. Moreover, she ensures the timely provision of programme data/reports to the donors and governing council and ensures compliance with all applicable laws.
Mr. Saurabh Sabikhi
Head of Support (Finance & Admin)
---
Accounting, finance, administration & monitoring. He has working experience in the development sector in different agencies and government organisations. At Vaagdhara, he is responsible for the development of business plans, project proposals for financial inputs, budget planning, adequate bookkeeping, regular statements of expenditure, annual balance sheets for donors, payment process of salaries, interests, professional fees, rents.